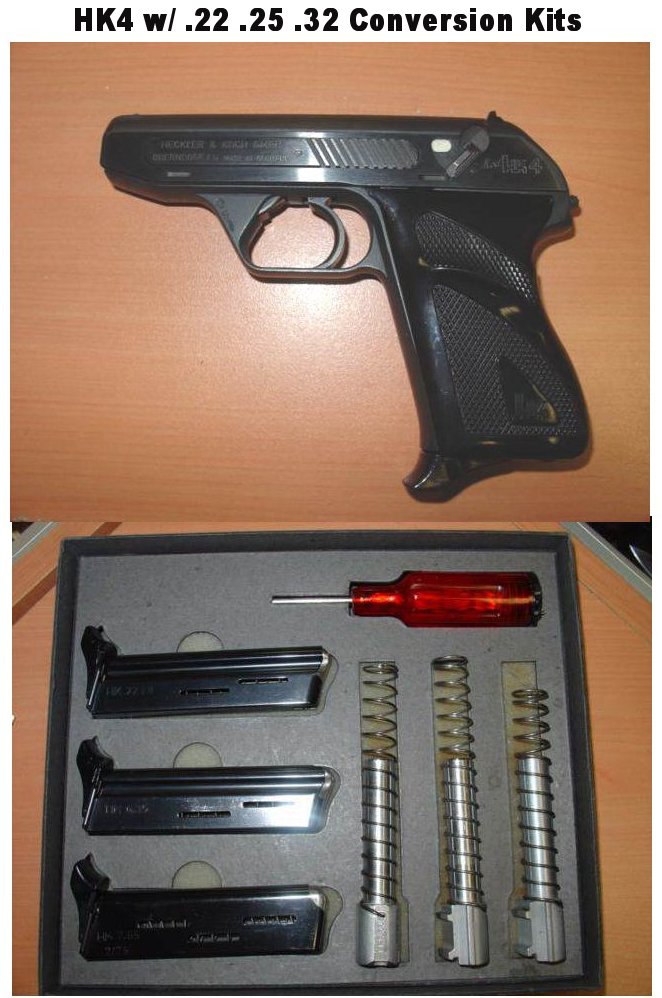 Heckler & Koch HK4 Pistol
The Heckler & Koch HK4 is a notable semi-automatic pistol produced by the esteemed German firearms manufacturer, Heckler & Koch (H&K). This compact handgun offers a blend of craftsmanship, reliability, and historical significance.
Technical Details:
Caliber: Available in various calibers, including .22 LR, .25 ACP, .32 ACP, and .380 ACP
Action: Blowback-operated semi-automatic
Construction: Steel slide and frame for durability
Barrel Length: Varies depending on the caliber
Sights: Fixed iron sights for aiming
Magazine: Detachable magazines with varying capacities based on caliber
Grips: Often made from wood or synthetic materials
Historical Context:
The HK4 pistol was introduced in the 1960s, showcasing Heckler & Koch's commitment to engineering excellence. It catered to civilian and law enforcement markets, offering versatility and reliability in a compact design. The HK4's legacy contributes to Heckler & Koch's reputation for producing high-quality firearms.
Summary:
The Heckler & Koch HK4 pistol remains an emblem of German firearm craftsmanship. Crafted by Heckler & Koch, it comes in various calibers, featuring a blowback-operated action, steel construction, and fixed sights. Its historical significance in the 1960s handgun market highlights its reliability and versatility. A testament to engineering and functionality, the HK4 pistol remains a classic choice for those seeking a compact and dependable semi-automatic handgun.